Does your business need a printing and direct mail company? Compucolor Is Your Most Valuable Printing Resource.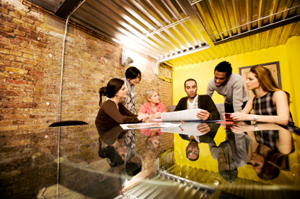 Are you looking for a printing and direct mail company to work with? Compucolor will make your printed materials and direct mail look outstanding! Compucolor, in NYC has a large state of the art print production facility to serve our customers. Do you need professional printing for a trade show or upcoming event? Get your printed brochures, promotional items, postcards, posters, folders, booklets, playbills, vinyl banners, mounted posters, stickers, or direct mail services from us. Compucolor serves all industries including Advertising, Entertainment, Education, Fashion, Finance, Food Service, Healthcare, Hospitality, Legal, Marketing, Manufacturing, Non-Profit, Real Estate, Retail, Transportation, and Professional Sports. Do you need graphic design for your printing project? Compucolor's dedication to find solutions for customers offers a creative edge other companies may not have. We use the latest technology to give our customers the best results. 
Our print and marketing team will help your business grow.
Call a Compucolor representative at (516) 358-0000 or e-mail: printing@compucolor.com
Text message to 516-358-0000 to reach Compucolor